Report: Despite Nasty Fall, Biden's Wrist Now Least Broken Part of American Health Care System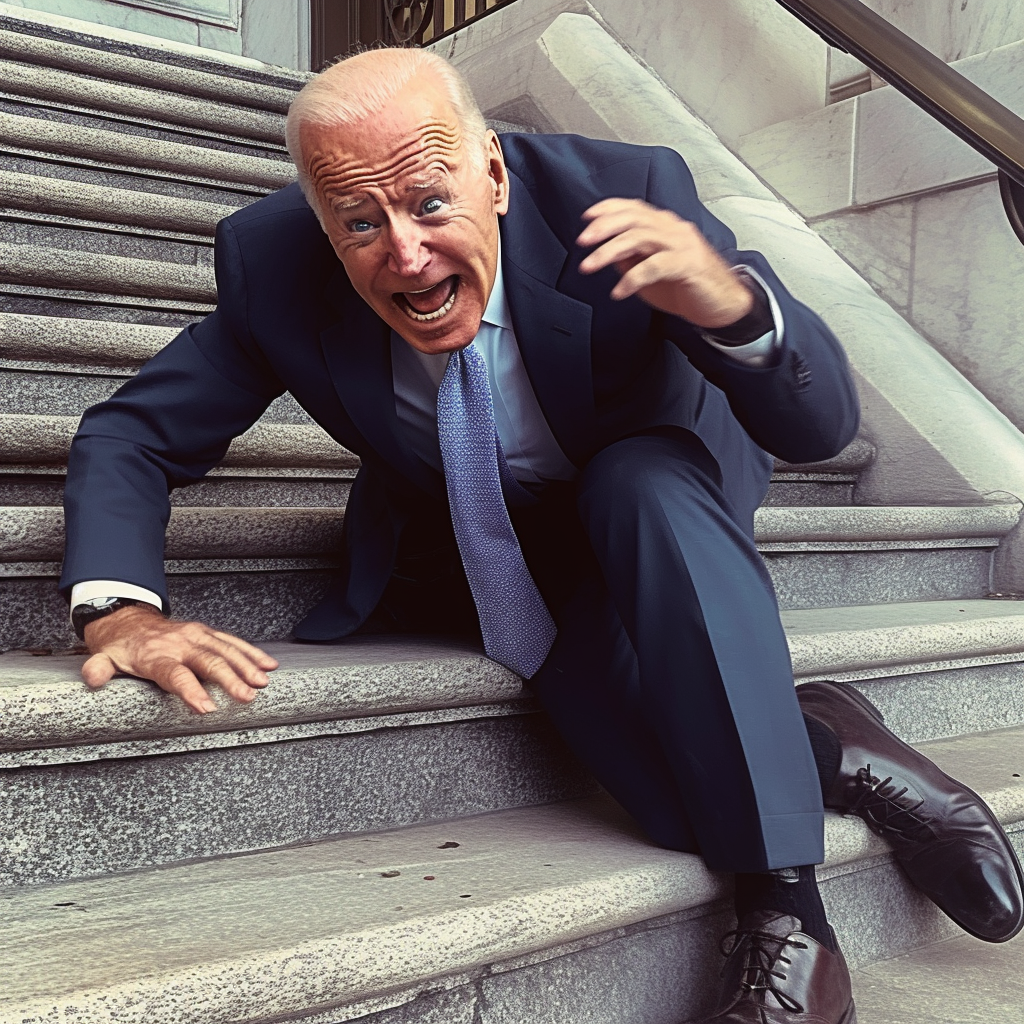 WASHINGTON D.C. - In a catastrophic stumble that had Washington insiders gasping and metaphors scurrying for cover, President Joe Biden slipped on a rogue puddle at the top of the White House stairs, tumbled dramatically downwards, and emerged with a cracked wrist. Despite this tragic setback, analysts have swiftly reported that Biden's wrist now stands as the least broken component of the American health care system.
"At least his wrist can be put in a cast and healed," said one health policy analyst, his eyes watering with the irony of the situation. "If only our health care system were as simple."
President Biden, with his newly acquired plaster cast, took the tumble in his stride, or lack thereof. He is now reportedly planning to swap Air Force One for a Hoveround electric wheelchair for the foreseeable future.
In a display of unprecedented solidarity, politicians from both sides of the aisle, recognizing the significance of the incident, agreed that Biden's wrist has now outpaced the American health care system in terms of functionality. The American health care system, according to recent reports, has remained at an impressively constant state of disrepair and has not improved at all since the incident.
Senate Minority Leader, known for his ceaseless opposition to Biden, offered surprising support for the President, stating, "Now that he has a genuine injury, maybe he'll understand the pain Americans feel every time they receive a hospital bill."
In a surprisingly twist, the President's wrist quickly became a symbol for the plight of the American health care system. Street artists have already begun creating murals depicting Biden's cast, accompanied by the tagline "In Fractures We Trust."
Meanwhile, White House press secretary Jen Psaki dodged questions about whether Biden's clumsiness was an elaborate ruse to draw attention to the systemic failures of the American health care system, responding with a terse "The President doesn't need to fall down stairs to know that the system needs work."
The American public, however, remain divided. While many see Biden's wrist as a potent symbol of the broken health care system, others view it as a stark reminder of the dangers of rogue puddles and loose shoelaces.
"Maybe if he didn't rush up and down the stairs like a teenager, this wouldn't have happened," said a man from Wisconsin, echoing a sentiment felt by a majority of citizens who blame the puddle and not the systemic issues for the fall.
As Biden's wrist heals, experts are eager to monitor if the American health care system will follow suit, or if it will remain a complex jigsaw puzzle of inefficiencies and high costs, needing more than just a cast to mend.